Sports Rehab includes optimizing sports specific movement patterns that become impaired by traumatic or repetitive strain injury conditions. It includes a smart, full return to sports. On and off season interventions are provided. Examples include injury prevention programs that address the unique kinetic chain demands of overhead arm-use athletes, distance / endurance running athletes, jumping athletes, agility athletes, speed / explosive athletes, and power athletes. Each demand poses a unique strain on the body which, done incorrectly and repeatedly, can lead to sitting on the bench with ice packs instead of competing. We communicate with team trainers and coaches as requested so that the recovery process is seamless.
INJURIES/PAIN RELATED TO Sports Rehab
Sprains and strains, overuse
Scapular / thoracic / UE impairments
Growth plate injuries / risks
Knee injuries
Labral tears, FAI, or AGMR conditions of hip
Achilles tendon injuries
Shin splints or bone interface pain
Rotator cuff injuries
Fractures
Dislocations
Contusions / blunt trauma to bone/muscle/joints
Joint Instability problems
Post concussion / vestibular deficits
Movement pattern and kinetic chain/postural dysfunctions
Developing athletes, elite trained athletes, and the weekend warrior athletes all want the best rehab professionals to keep them in their game and can have Evergreen specialists on their team.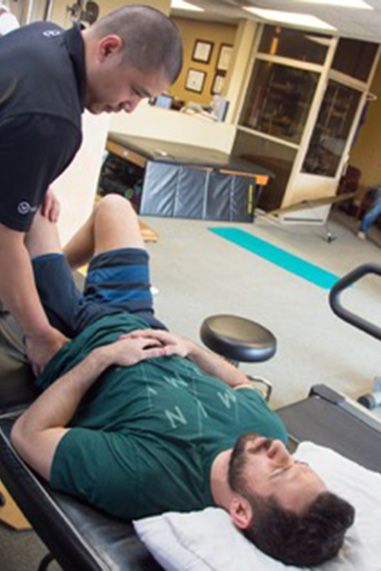 What our Sports Rehab patients are saying
Dr. Chris Wong has been an integral part of SENSE GYM Weightlifting Team. He understands the nature of our sport and provide superior treatment for our usual aches and pain as well as preventing and rehabbing of our minor injuries. We are thankful to have Dr. Wong as part of our team medical staff, without his expert care we would not be successful in competition.
Nghiep Dinh, MS CSCS USAW
Head Weightlifting Coach at SENSE Gym
I wanted to personally thank you again for the medical attention you gave my Weightlifters at the most recent 2015 University National Weightlifting Championships. The Medical care that you provided to my athletes was top notch, and allowed them to perform at their best. I know your attention to detail, professionalism, and experience was a huge part of my athletes being healthy and prepared to compete. Our athletes were able to bring home a Multiple Medals and set new Competition Records. I know going forward I will always reach out to you and the other fine Medical Staff that makes up the USA Weightlifting Medical Staff. Thank you again.
Joe Micela
Performance One Advanced Sports Training
Head Coach and Owner
The therapists were helpful and friendly. Their top priority is to make sure you are healthy and fit to go back to your normal routine... I am healthy and pain-free, and can go back to sports.
I never thought I would be able to play tennis again. You reassured me that I would and now I am able to play again without any difficulty.
Evergreen enables and empowers me to be the best runner/athlete I can. Thanks!
I completely trust Dave and Evergreen with our athletes at Crescenta Valley High--including the one that lives at my house! Over the years I have sent my baseball players as well as athletes from all corners of our campus for rehab and evaluations. If anyone at our school or outside has an injury issue I always, without hesitation recommend Evergreen and Dave. He is always on the cutting edge with athletes and their needs--but most importantly--you can trust Dave to do what is best for your kids.
Phil Torres, Head Coach CVHS Baseball
Mr. Johnson,
I want to thank you from the bottom of my heart for the great care you gave me as i have been healing up my shoulders. Due to your help all of these body parts are getting back to feeling healthy.
Drew Elffers ( Azusa Pacific University, Quarterback)
Read More Testimonials >