One just has to have one headache or pain going in to the jaw to realize how disruptive to life it can be. Those with these conditions unfortunately deal with this repeatedly often in a vicious cycle, seemingly with no end. Our specialist has helped patients discover relief for the past 4 decades. Let her help you discover a new you.
INJURIES/PAIN RELATED TO Head, Neck, Facial Pain, and TMJ
Temporomandibular dysfunctions
Myofascial pain
Headaches
Cervical Radiculopathies
Postural tension
Centralized pain disorders
Nerve entrapment syndromes
Thoracic outlet syndrome.
It's not all in your head. Head, neck and jaw pain are real but treatable disorders that can improve under the expertise of Evergreen's specialist.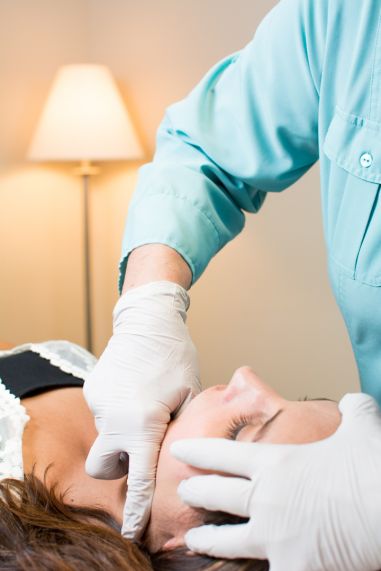 What our Head, Neck, Facial Pain and TMJ patients are saying
I was impressed the way Sally got right to the problem - helped me do something about it (as in taught me what to do) and moved me on. This was my first physical therapy experience, but I am a BELIEVER! Thank you Sally!
Having never had PT myself, I was so pleased with the care I received from Sally. Your services came highly recommended from Dr. Carol Thrun and I can see why. I so appreciate Sally. Also your office staff is so friendly and a pleasure to interact with.
Sally Howard is one of the best in the business. The physical therapy I have received from Sally has been very helpful to me. She is an expert at what she does and is creative in coming up with innovative exercises you can do at home on your own. She is also a wonderful person and I would highly recommend her to anyone!
Anonymous, Professional French Horn Player
The therapist is extremely informed, personable, communicative and skilled. Definitely would recommend. This particular therapy is not readily available but often needed. We are fortunate to have someone of Sally Howard's professionable abilities in our community. Dentists need to know she is here, willing to solve problems.
Absolutely would recommend the office staff and Sally put me at ease. I was afraid to find out what the problem was, but the treatment and outcome were fully explained and eased my mind. My only regret is that I did not go sooner.
Yes, the list can go on, but to name a few, the most beneficial service I got was techniques that allowed me to feel less pain, stretches with my neck that relieved tension and most importantly, the kindness I got from Sally.
Read More Testimonials >